GMP Certified Chlorella 1000 Mg Tablets, Natural Chlorella 1000 Mg, Chlorella Pills
Contains the highest levels of chlorophyll of any plant.

Is high in protein, beta-carotene, vitamin B12, and 19 amino acids.

Provides high levels of RNA and DNA.

May help boost immune system function.
Chlorella: Loaded with Nutrients to Support Better HealthChlorella is a small, green algae cultivated in fresh water. Discovered in the 19th century, it became the object of great interest after World War II for its potential food value. Called a "complete" food by some, its use as a food source never panned out, but it has become a popular food supplement particularly in Japan and now increasingly in the United States.

Chlorella contains the highest levels of chlorophyll found in a plant source. It also contains significant amounts of protein, iron, vitamin B12, beta-carotene, and 19 amino acids. It is the food substance with the highest-known levels of RNA and DNA. This fact may have implications for repairing the cell's genetic material.Studied for Numerous BenefitsChlorella has the potential to benefit human health in several areas. In animal studies, Chlorella significantly lowered blood pressure. In at least one human study published in 2003, a noteworthy number of participants saw a decline in blood pressure levels. Further studies are needed before concrete benefits can be established.

Chlorella enhances the immune system function. Scientists believe Chlorella increases T-cell activity and macrophages. These large cells protect against infection by removing waste products, harmful microorganisms, and toxins from the blood stream. With the increase in T-cells and macrophage comes an increase in interferon.

In a 2000 study, patients with fibromyalgia experienced significant benefits after taking Chlorella for two months. Further studies are needed before concrete benefits can be established.High-Quality Ingredients Ensure DigestibilityChlorella has a strong cell wall the human digestive system cannot adequately break down. To facilitate maximum absorption and benefit, the cell wall must be broken before consumption. The cell wall of Chempro Chlorella has been broken down mechanically to aid digestibility.
Label Information and Ingredients:Suggested Use: As a dietary supplement, take 3 tablets daily, preferably with meals.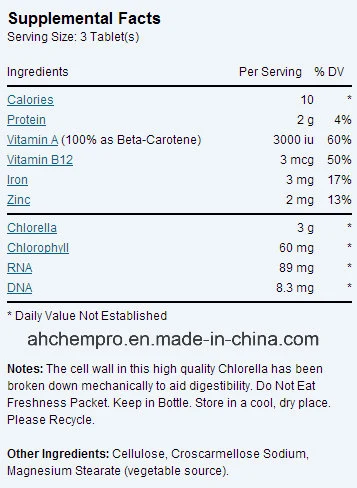 Contains No Added:
sugar, salt, starch, yeast, wheat, gluten, corn, soy, milk, egg, shellfish or preservatives.
Caution:
Keep out of reach of children.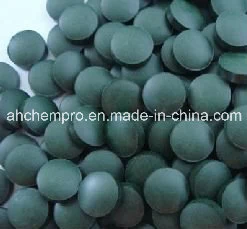 Chempro Tablet Features:
Appropriate for custom sizes and shapes(Oblong, Oval, Round, Triangle, Hexagon)
Standard Tablet, Chewable Tablet, Effervescent Tablet
Strictly controlled in the whole process and detected by hardness tester and Frangibility tester in finish product
Different taste as customer need
Normal & HPMC coating
Chempro can produce tablets and capsules to the unique requirements of our customers.
We can offer our customers a complete service from raw materials to finished product.
Our tablet and capsule capabilities allows for us to manufacture to customer specific requirements
including product concept, formulation development, laboratory service and packaging.
Hard shell capsules - all sizes (including vegetable capsules)
Tablets - All shapes and sizes (including full coating service)
We offer our customers a world class manufacturing facility, new modern equipment,
high tech laboratory service and capability to meet all demands.
Our team is ready to assist you develop innovative formulations to give you the market edge in the market place.